Image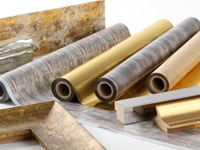 For over 50 years the strength of all the Collections Company, Giusto Manetti Battiloro offers every year new designs and finishes, the result of continuous research aimed analysis of tastes and market trends.
Leaders in the field for many years, Giusto Manetti Battiloro it is able to offer product lines for all customer needs.
the ability to customize and adapt colors and designs allows to Manetti to answer any customer request and for an almost endless variety of items.
Among the types of products for the frames of the sector are present:
gold effects and smooth silver;
metallic colors
Grane wood
Pastel colors
transparent drawings
Effects brushed gold, silver and metallic colors
Gold, silver and color design
gilding and gold leaf effect
Selective release drawings
Other items:
- Profiles    - Lamination    - Components MDF    - Graphics    - Encoding