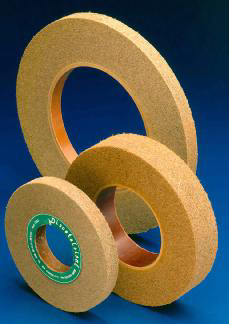 The CP-WL products are open-structure convoluted wheels produced with High Density SCOTCH BRITE non-woven nylon fibre fabric.
Their own characteristics allow these wheels a very long life.
They can be used on manual or automatic machines.
APPLICATIONS
METAL
These wheels are suitable for any type of microdeburring and for strong removal.
STANDARD PRODUCTION
PRODUCT REFERENCE
COLOUR
GRAIN
DENSITY
ALUMINIUM OXIDE
CP-WL A/COARSE
Brown
80
7
CP-WL A/MEDIUM
Brown
120
7
CP-WL A/FINE
Brown
240
7
CP-WL A/VERY FINE
Brown
320
7
STANDARD DIMENSIONS
OUTER Ø
INNER Ø
150
25
200
76
250
127
300
127
350
203
PERIPHERAL SPEED SUGGESTED
30/40 MTS.