These wheels are produced by using flap elements of non-woven abrasive materials radially glued around a central fibre core.
They are produced in different grains and densities, using both aluminium oxide and silicon carbide non-woven abrasive materials.
They are available in various dimensions, and they can be used on both automatic and semi-automatic machines.
TBM, RACS e S/B flap wheels are manufactured in long size rolls and successively cut to the required thickness. They can be used on flat parts and shaped surfaces, maintaining their shape perfectly during the entire working process.
The machines which use these wheels are equipped with variable speed on both feeding system and wheel rotation.The long rolls are used for raw sanding and buffing in the processing of metal, wood, MDF and chipboard panels.Each long roll is rectified and dynamically balanced to avoid vibrations and marks during its use.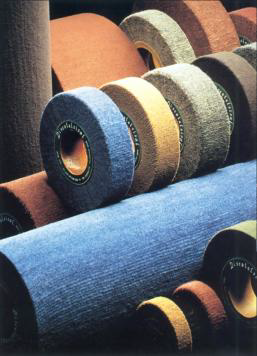 APPLICATIONS
WOODS AND PAINTS
These wheels are used on all types of wood and MDF. Appropriately shaped, flap wheels are useful in many applications for buffing of paints, lacquers, fillers, chalks and sealers applied onto mouldings and profiles.
Different finishing results are achieved by using combination of different materials and grits.The wheels are mounted onto an automatic profile sander and successively shaped to their proper working position.
These machines are equipped with variable speed on both the feeding system and wheel rotation; thus changing one of these working variables changes the sanding results.
The flap wheels can work on forward and reverse rotation, so it's not necessary to be particularly careful when mounting them to a ma-chine.
The long rolls are essentially used to smooth rough and/or painted panels on automatic wide belt sanders after the sanding belts.
METAL
These wheels are used to prepare the metal surfaces for gluing and painting.  
They are also used to remove surface oxidation on printed circuit boards without removing the copper.
The smaller diameter wheels are used for manual jobs while for automatic works, like robot or rotating tables, we use the larger diameter wheels with reduced speed.
The wide range of grains allow to obtain various type of finishing.
For a proper selection of the right flap wheel, please specify the dimensions, the type of product and the density you need.
The dimensions are expressed in mm. and indicated as follows:
OUTER Ø x THICKNESS x INNER Ø (eX. Ø 200 x 50 x 76)
STANDARD DIMENSIONS
OUTER Ø
100
110
120
160
200
230
250
290
300
320
350
400
INNER Ø
35
6
25
55
55
76
80
100
115
127
150
127
150
180
200
220
250
For sizes not showed on the a.m. standard products, please contact our Technical – Sales service.
STANDARD PRODUCTION
PRODUCT REFERENCE
COLOUR
GRAIN
ALUMINIUM OXIDE
TBM/A COARSE
Brown
80
TBM/A MEDIUM
Brown
120
TBM/A FINE
Brown
240
TBM/A VERY FINE STRONG
Brown
320
TBM/A VERY FINE SOFT
Brown
320
S/B A MEDIUM
Red Brownish
120
S/B A FINE
Red Brownish
240
S/B A VERY FINE
Red Brownish
320
SILICONE CARBIDE
TBM/S MEDIUM
Dark Grey
120
TBM/S FINE
Dark Grey
240
TBM/S VERY FINE
Dark Grey
320
TBM/S SUPER FINE
Dark Grey
400
TBM/S ULTRA FINE
Dark Grey
600 - 1000
TS 609 S
Dark Grey
600 - 1000
S/B S MEDIUM
Dark Grey
120
S/B S FINE
Dark Grey
240
S/B S VERY FINE
Dark Grey
320
S/B S SUPER FINE
Dark Grey
400
S/B S ULTRA FINE
Dark Grey
600
OTHER MATERIALS
RACS BLUE
Blue
240
RACS GREEN
Green
320
WHITE EXTRA
White
none
DF/NCS
Neutral Grey
320
DF/GREY
Grey
240
DF/NOA
Neutral Brown
240
DF/GREEN
Green
320
DENSITY OF FLAP WHEELS

The density of the flap wheel changes according to the number of flap elements contained in the wheel itself. Density being equal, the number of flap elements can change according to the type of material and  grain used.