The WW-WL (Woodworking) products are open-structure convoluted wheels produced with SCOTCH BRITE grit GARNET non-woven nylon fibre fabric.
Thanks to their characteristics of compactness and homogeneity, they are easily shaped and work perfectly in the most difficult situations and complicated shapes.
APPLICATIONS
WOOD
The wheels, after being shaped, are used to sand resinous woods like douglas, fir-tree, pin, pitch-pine.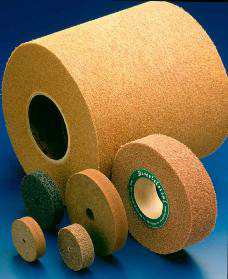 STANDARD PRODUCTION
PRODUCT REFERENCE
COLOUR
GRAIN
DENSITY
ALUMINIUM OXIDE
WW-WL
Brown
GARNET
5
STANDARD DIMENSIONS
OUTER Ø
INNER Ø
200
76
PERIPHERAL SPEED SUGGESTED
20/38 MTS.