The GP-WL (TYCRO-General Purpose) products are close-structure convoluted wheels produced with SCOTCH BRITE non-woven nylon fibre fabric.
Thanks to their characteristics of compactness can be easily shaped and work perfectly in the most difficult situations and complicated shapes.
APPLICATIONS
METAL
For satin finishing of metals,  for micro-deburring on printed circuits.
WOOD AND PAINTS
The wheels, after being shaped, are used for buffing base coat paints when there are two or more coats applied on to picture moulding or profile in general.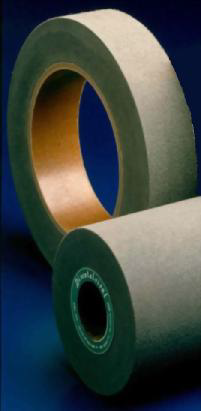 STANDARD PRODUCTION
PRODUCT REFERENCE
COLOUR
GRAIN
DENSITY
ALUMINIUM OXIDE
 
 
 
GP-WL A/MEDIUM
Brown
120
6
GP-WL A/FINE
Brown
240
6
GP-WL  A/VERY FINE
Brown
320
6
SILICONE CARBIDE
 
 
6
GP-WL S/FINE
Dark Grey
240
6
GP-WL S/VERY FINE
Dark Grey
320
6
GP-WL S/SUPER FINE
Dark Grey
400
6
GP-WL S/ULTRA FINE
Dark Grey
600
6
STANDARD DIMENSIONS
OUTER Ø
INNER Ø
150
25
200
76
300
127
350
203

 

 
PERIPHERAL SPEED SUGGESTED
15/30 MTS